Tools and support for automotive
Optimise processes and strengthen Your position in the automotive market
Increase the sales and operational capabilities of Your business. Ensure professional customer service, order completion and sales growth.
Chater is an innovative marketing platform – designed to support Your growth in the automotive industry.

6 ready-to-use tools
Including: live chat, callback, virtual assistant, chatbot, video chat with earning option and e-calendar.

Easy implementation and operation
Integration will take you no more than five minutes, and learning how to use the system itself can be done in just a few quarters.

24-hour assistance
You will be supported by a supervisor who will provide you with thorough answers and teach you how to make full use of Chater.

Versatile and flexible development
Adapt to Your current needs as well as make modifications at any time.
ONE PLATFORM. MULTIPLE FUNCTIONS. COMPLETE ASSISTANCE
Chater for automotive: why is it worth it?
The Chater platform provides you with access to a full set of modern tools designed to help you run and develop Your automotive business. Its functionalities will be useful whether you specialise in providing professional services (running a workshop, paint shop, detail studio, vulcanisation, etc.) or are involved in the online sale of automotive parts and accessories.
BENEFITS FOR AUTOMOTIVE
How can you use it too?
If you are involved in providing automotive services on a day-to-day basis (repair, painting, care, etc.), you will certainly know how much time is spent on administrative activities.
Accepting bookings, answering recurring enquiries, reporting on the status and progress of individual completions. These are just a few examples of areas that can take up to 50% of Your valuable time. Time that you could be spending doing what you enjoy and know best, which is providing services or simply taking care of business growth.
By implementing Chater, most such duties will be handled for you by dedicated tools.
Chatbot will enable questions to be answered efficiently and expressly.
E-calendar will allow bookings to be accepted and changed quickly and easily.
Virtual assistant will support you in the areas of customer service, marketing and even selling Your services.
If you run Your own e-shop with parts, gadgets, and other automotive accessories – Chater will become a fully-fledged e-commerce tool for you. Thanks to it, you will improve the quality of the current service, as well as create and utilise even more sales opportunities.
Live chat, chatbot and even callbacks are the perfect tools to help you ensure that you are always there when Your customers need you. With their help (as well as that of other tools), you can reduce the number of unfinished transactions and abandoned baskets, effectively promote selected products, and even plan and implement marketing campaigns.
Also deserving of Your attention are the possibilities to collect information about Your current as well as potential customers. Access to a modern CRM system will enable you to store data securely, analyse it on an ongoing basis and, above all, draw conclusions.
All this can become the foundation for making more accurate decisions – regarding the development or modification of the product range, changing and optimising processes, as well as making many other business moves.
Combining all of Chater's capabilities will allow you to shift into sixth gear and grow Your business even further.
It will help you better understand Your customers, learn how to respond to their needs and organise Your company's work and processes to increase reach, build a competitive advantage and earn more.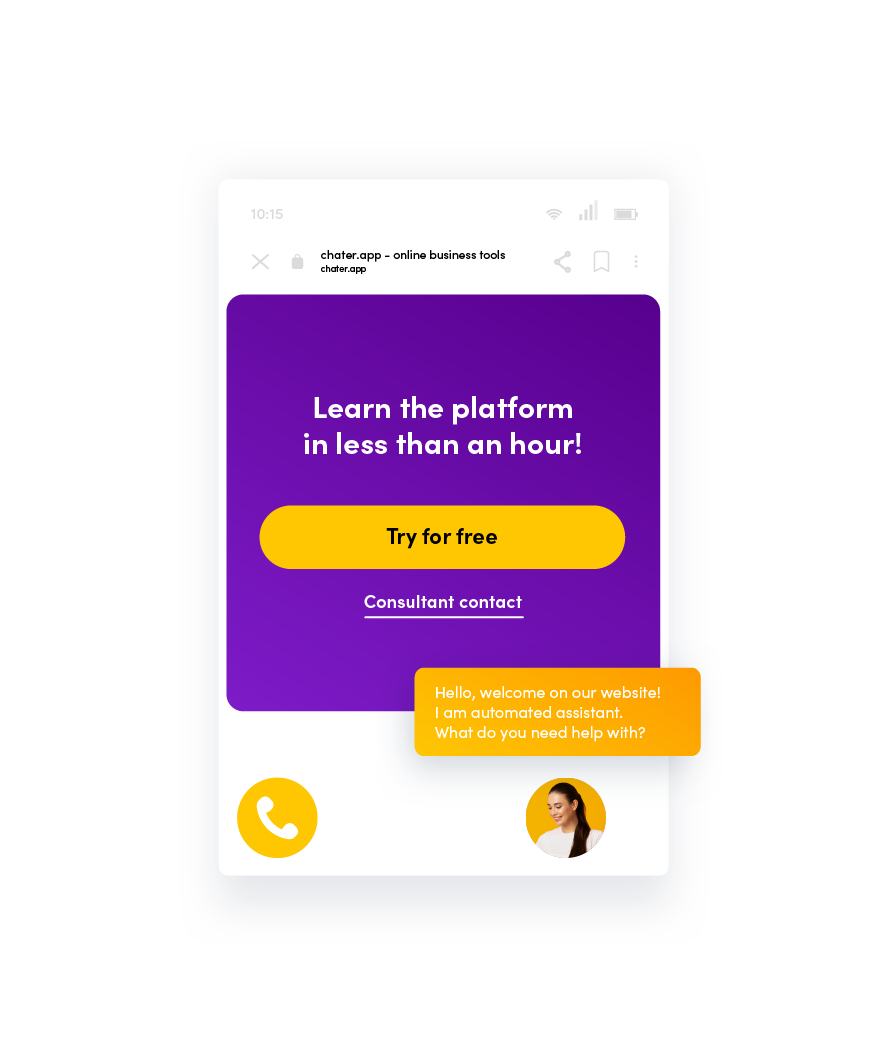 HOW TO GET STARTED?
Turn Your e-shop into a fully-fledged platform for customer service, service, and the sale of car parts
With just 3 simple steps, Your firm will be able to benefit from all the possibilities Chater has to offer. Check it out and get started today!
Step 1

Select

Familiarise Yourself with the tools available and then select the ones you want to implement for Your business.

Try for free

Step 2

Install

Carry out a simple integration, for which you use specially generated code.

Choose your bundle

Step 3

Use

Chater will help you to provide efficient customer service, support Your promotion and enable you to increase sales.
Case studies
Find out about the results of our clients
57%

Savings monthly

By implementing processes to optimise customer service.

46%

Less abandoned carts

With the use of automated services and responding to enquiries.

63%

Sales increase

Through the implementation of effective marketing campaigns.

47%

More positive reviews

Given by customers of online shops.