Tools and support for service providers
Don't waste time and energy on repetitive tasks. Automate Your customer service, receive promotional support and grow Your business.
Don't waste time and energy on repetitive tasks. Automate Your customer service, get expert promotional support and start growing Your business like never before.
Chater is an innovative platform to accelerate, automate work and increase the efficiency of Your business.

6 customised tools
Including: live chat, callback, virtual assistant, chatbot, video chat and e-calendar

Easy implementation
Integration in as quick as five minutes, and easy to use, learned in a matter of moments.

24-hour assistance
Dedicated supervisor at Your disposal at all times - 24/7.

Flexibility and versatility
Adapt to the current and future needs of Your business.
ONE PLATFORM. MULTIPLE FUNCTIONS. COMPLETE ASSISTANCE
Chater for service providers: why is it worth it?
It doesn't matter whether you run a beauty salon, do hairdressing, operate in the healthcare sector, are a fitter, carry out repairs or are involved in other tasks. The service sector is a job that requires you to multitask, focus and, above all, commit a lot of time and energy.
Chater was created precisely to help you with these tasks. To make Your work easier and, above all, to bring back a lot of its fun. Thanks to the platform, you will be able to access a number of cutting-edge tools, which will not only make Your work and business easier, but in particular more efficient. Their implementation will allow you to efficiently organise Your own work, take care of marketing and sales matters, and skilfully manage Your staff.
BENEFITS FOR SERVICE PROVIDERS
How will it work for you?
If you operate in the service industry, you will no doubt be aware of how much time it costs to deal with daily enquiries, bookings, billing, as well as other tedious, laborious, and often repetitive matters. Of course, these are tasks that need to be done, but at the same time tasks that do not earn you any money.
How about having up to 90% of these obligations taken over by machines for you? Well, that's exactly how Chater works. With access to live and video chat and even the support of a virtual assistant, you'll get rid of the vast majority of the work.
You can dedicate the time you saved in this way to anything you want, including customer service, management and even growing Your business.
Long waiting time to receive a response. The hassle of booking a service appointment. Or lastly – difficulties getting through to Your company. These are just a few examples of situations that can frustrate and, more importantly, make Your potential customers quickly 'run away' to Your competitors.
Fortunately, with Chater's capabilities, you will substantially minimise the risk of such problems occurring. Its features will allow you to respond quickly and in real time (chatbot), connect with customers in as little as half a minute (callback), and conveniently book and pay online (e-calendar).
You will gain the ability to implement and use of the advanced CRM system, which will allow You not only to manage customer contacts, but even the tasks and schedules of employees.
Chater will become a professional information repository for You, which You will use to better understand your recipients, as well as the steady growth of Your business. This is so you can better respond to current market needs.
The platform will also work well as a promotional tool to contact your customers via email or SMS.
In turn, the combination of all these aspects will allow You to save money and time, and first and foremost, help gain a substantial advantage over competitors.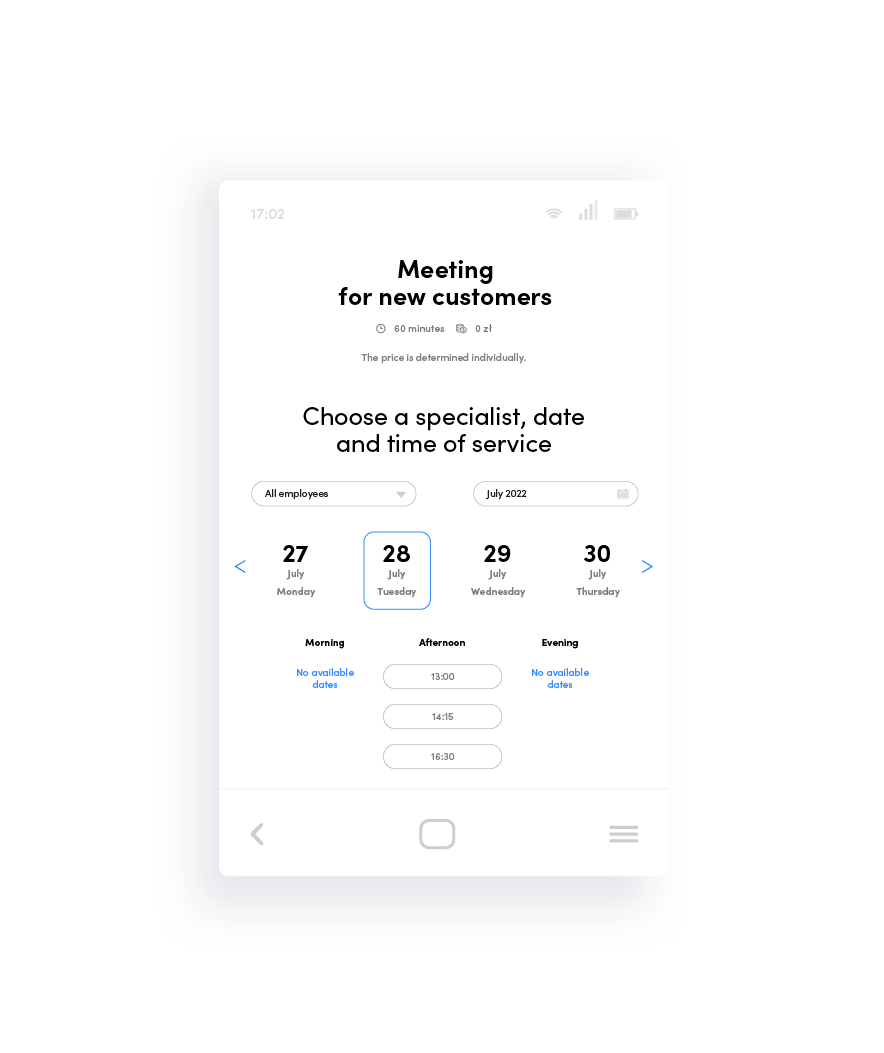 HOW TO GET STARTED?
Utilise automation and transform Your company into a professional organisation, well-loved by clients
Only 3 simple steps are keeping You from the possibilities offered by Chater. Check it out and start using them now!
Step 1

Select

Discover offered tools, so you can choose the ones that will work best for Your business.

Try for free

Step 2

Install

Integrate them with your site as well as other systems. You can do this quickly and easily – with the use of a special code

Choose your bundle

Step 3

Use

Chater will make customer service easier for You, as well as enable You to continually increase sales.
Case studies
Learn about the results of our clients
47%

Savings monthly

By implementing processes to optimise customer service.

36%

Less abandoned carts

With the use of automated services and responding to enquiries.

48%

Sales increase

Through the implementation of effective marketing campaigns.

62%

More positive reviews

Given by www websites customers.